Rain Holds Off for Successful ASGA Annual NSW Golf Day
The days leading up to the NSW sign & print industry golf event were rainy ones for Sydney, but a fine – if overcast – morning last Thursday allowed 64 players to tee off for the popular annual Sign & Print Industry Golf Day at the Ryde-Parramatta Golf Club.
The turnout allowed 16 teams to compete in a fun round of Ambrose golf, hosted by the Australian Sign & Graphics Association (ASGA). The majority played off the maximum handicap of 27 with a few 'real golfers' playing off single figures, but the style of Ambrose competition made for an enjoyable day for all, regardless of ability and experience.
The winning team at the end of the day were Shann Group (Glenn Peters, Scott Novak, Jim Hyde, Sunny Cabrera) with 56 points, who were presented with their prizes by Steven Howland, Graphic Art Mart NSW Business Manager. Signarama's Matt Fitzpatrick presented prizes to the runner-up team from Ricky Richards (Lee Liang, Ron Gottlieb, Geoff Reid)  with a score of 57.5.
Par 3 nearest the pins were won by Gary Marshall (Signarama), Jim Hyde (Shann Group), Steve Macquarie (Rowmark) and Geoff Reid (Ricky Richards), while Shaun Weir (Roland DG) and Lee Liang (Ricky Richards) launched massive drives to win the long drive prizes with Veronika Hansknechtova (ProVinyl) taking it out for the female contingent.
Mick Harrold, President of ASGA, said the day was a pleasing success and a great opportunity for industry networking in a fun and friendly environment.
"Events like these rely on the support of our members and the industry, and it was fantastic to see that coming from many companies who brought along staff and clients to participate," he said.
"We are also grateful to those companies who supported the day with generous sponsorships – Principal Sponsor Graphic Art Mart, Signarama who sponsored the drinks cart, Amari Visual and HEXIS who provided key sponsorships of novelty hols, drinks and balls, and Sign Manufacturers' Insurance who provided the prizes for winners.
"Novelty holes were supported by Ball & Doggett, BounceLED, ProVinyl, ORAFOL, Ricky Richards, Rowmark, Roland DG and Visual Connections."
"We thank all players for their involvement and for the obvious fun and camaraderie they displayed both on and off the course," he says.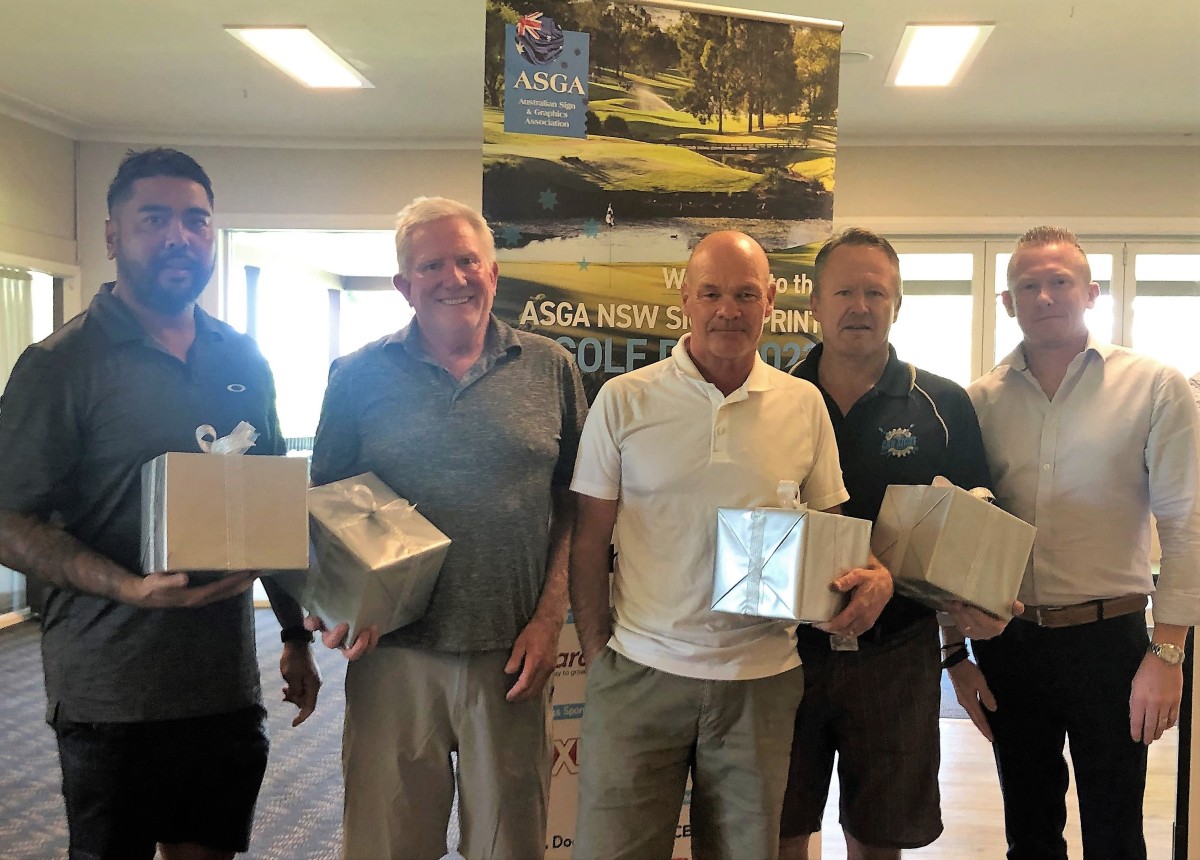 Above:  The winning team from the Shann group, with Steven Howland (R) (Graphic Art Mart)
Above:  Long Drive (female) winner – Veronika Hansknechtova (Pro Vinyl)
Above:  Event presentations about to commence …